Interscholastic Sports
Every student deserves a chance to play school sports.
Providing opportunities for students with physical disabilities to participate in interscholastic sport is both rewarding and important. Interscholastic sport is proven to increase educational outcomes in student athletes. Ohio's graduation rate for students with disabilities is 51.4% compared to 82.1% overall. Access to interscholastic sport can help students with disabilities socially, physically, emotionally, and academically. Additionally, access to athletics is required by law.
Adaptive Sports Ohio is a resource.
As a leader in the state, we are committed to being a resource to students and school administration to make interscholastic sports available to students with physical disabilities.
Here are some of the ways we help:
Interscholastic Track and Field: Students with a physical disability in grades 7-12 are eligible to join their school track team. Adaptive Sports Ohio can help with equipment loan, training and provide support to schools with a student on their team. Regional trainings for students and coaches are offered by Adaptive Sports Ohio each year.
Interscholastic Wheelchair Basketball: Adaptive Sports Ohio works with school districts to launch wheelchair basketball teams for students in grades 1-12.
Other Interscholastic Sports: Are you a student that needs help joining one of your school's other interscholastic teams? Reach out to our staff for support.
School presentations: Adaptive Sports Ohio can visit your school and promote the awareness of disability and adaptive sports.
More information about the support we provide is detailed below.
Contact Us: Please contact us with any questions or to learn more about how to get involved.
---
---
Track and Field
Since 2009, Adaptive Sports Ohio has advocated for students with physical disabilities to have the opportunity to participate on their school's track and field team. In June of 2012, the Ohio High School Athletic Association (OHSAA) announced the decision to include wheelchair competitors at the state track meet with the inaugural event occurring in 2013. Since 2009, more than 70 students using racing wheelchairs have represented their schools. Adaptive Sports Ohio has supported this program through adaptive track trainings for athletes and coaches across the state, as well as providing racing wheelchairs to students.
OHSAA includes students with disabilities at the junior and high school state track and field meet each year. Events include:
Boys and Girls
High School: 100, 400 and 800 Meter Wheelchair Events, Shot Put
Junior High: 100, 400 and Shot Put
Eligibility information can be found here. Overview:
Academically eligible students with a physical impairment are permitted to participate (not restricted to wheelchair users).
Coaches must fill out an "Adapted Sports Verification Form."
Each event has a time/distance requirement that must be met in order to attend the State Meet.
Students are required to use a racing wheelchair.
Equipment: Adaptive Sports Ohio has a limited number of racing wheelchairs available to loan for students who wish to participate. Guidelines apply. Participation in a regional training is required. Training information is posted on this page below Interscholastic Wheelchair Basketball.
Coaches: You may contact us anytime you have a question about wheelchair racing. Additionally, Adaptive Sports Ohio's hands-on regional trainings provide a complete overview of wheelchair racing and coaching.
Regional Training Information is posted below.
---
Wheelchair Basketball
With support of the Ohio Legislature in 2015, Adaptive Sports Ohio launched the first interscholastic wheelchair basketball team in Ohio. As part of a larger initiative meant to increase the athletic opportunities for students with disabilities in Ohio schools as recommended by the U.S. Department of Education's Office for Civil Rights, Adaptive Sports Ohio is working to expand and increase the number of school districts participating in the wheelchair basketball league.
"The opportunities that have been provided for us, and for these athletes, are things that these students are going to take with them long after they leave Tallmadge High School."

– Jeff Ferguson, Administrator
Current teams include:
Wooster Wheelchair Generals, Wooster City School District (est. 2015-2016)
Massillon Wheelchair Tigers, Massillon City School District (est. 2016-2017)
Tallmadge Wheelchair Blue Devils, Tallmadge City School District (est. 2017-2018)
Austintown Wheelchair Falcons, Austintown Local School District (est. 2017-2018)
GlenOak Wheelchair Eagles, Plain Local School District (est. 2017-2018)
Jackson Wheelchair Polar Bears, Jackson Local School District (est. 2019-2020)
Beavercreek Wheelchair Beavers, Beavercreek City School District (est. 2021-2022)
Wadsworth Wheelchair Grizzles, Wadsworth City School District (est. 2022-2023)
School Districts: As the lead on this initiative, Adaptive Sports Ohio provides the following to school districts at no cost to ensure the program is successful:
Management, implementation and coaching of teams as needed by the school district.
In-depth training to the district coach.
Organization of the season schedule.
Assistance to the athletic director for arranging home games.
Specialized sport wheelchairs ($2,800 each) and a 6×12 enclosed trailer for transporting the chairs to competitions as needed.
Ongoing equipment maintenance and repair.
Quick access to staff support throughout the season.
Rule implementation and league oversight.
Track and record team and player statistics.
Fund and host the annual state wheelchair basketball championship.
Adaptive Sports Ohio is willing to meet with your administration to discuss implementing this program in your school district. Support and training is provided.
---
Trainings/School Presentations
Adaptive Sports Ohio offers adaptive track and field regional trainings for Ohio middle/high school coaches and students (Grades 7-12). Trainings generally take place during January and February, to allow for adequate preparation for the season.
Regional training agenda includes:
Equipment fittings for students
Chair parts/maintenance
Chair propulsion/technique
OHSAA wheelchair events guidelines/eligibility
Coaching students with physical disabilities
Q&A
2023 Regional Training Information:
There are 3 steps that coaches/athletes/parents must go through to complete the training and to be ready for a successful season:
Virtual Training (Mandatory) For Coaches and New Athletes: The virtual training must be completed prior to your in-person training. You will receive a Zoom link for the virtual training session after registration.

Options for are:

January 10, 2023 at 4:30pm
January 11, 2023 at 7:00pm
February 8, 2023 at 7:00pm
February 20, 2023 at 4:00pm

In-Person Training (Mandatory) For Coaches and

New Athletes:

Location options are Beavercreek – 1/15, Youngstown – 2/10, and Wooster – 2/21. 
Racing Chair Fitting For

New and Returning Athletes:

Fittings will occur on the day of the in-person trainings in Beavercreek and Youngstown, and will be assigned by Adaptive Sports Ohio prior. For Wooster, there are multiple days and times available. A link will be sent to signup for the date after registration is complete.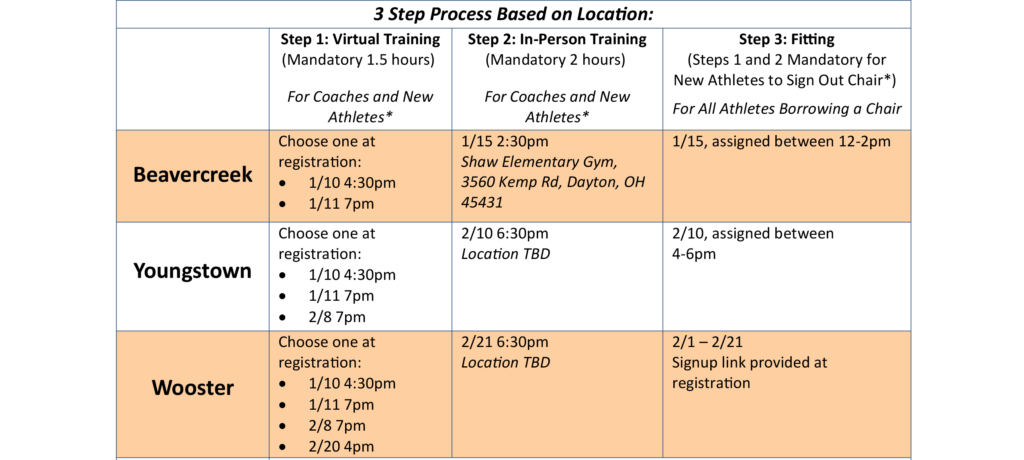 Download the informational flyer here.
New and Returning Athletes $100
Coaches $25
For additional information about the program, contact the Director of Programs: Brian Veverka, Brian.Veverka@AdaptiveSportsOhio.org.
---
By booking an Adaptive Sports Ohio presentation, schools can support our mission and increase student's awareness and acceptance of individuals with disabilities. Presentations feature adaptive athlete speakers and a wheelchair basketball or wheelchair rugby game. The presentation is generally an hour long and can adapt to the following different themes:
Disability Awareness
Inclusion
Paralympic Sport
Bullying
Please contact us to set up a presentation at your school.