A Chance to Play Gala
Please join us for our annual A Chance to Play Gala as we gather to celebrate the impact that sport can have on individuals with physical and visual disabilities. On this special evening, we will honor our athletes, and say thanks to the foundations, community partners, and donors who invest in life-changing opportunities to play. Guests will learn the importance that sport has in the lives of ALL athletes and how they can bring community-based and interscholastic programs to their communities.
When: Saturday, September 17, 2022 at 6:00 p.m. – 10:00 p.m.
Where: Pro Football Hall of Fame, 2121 George Halas Dr. NW, Canton, Ohio 44708
Who: Adults, (children family members of Adaptive Sports Ohio athletes 12yrs+ permitted)
Cost: Tickets $75, Tables $1,500 (tickets include a free pass to the Pro Football Hall of Fame on the day of the event)
Register: Please RSVP by September 3, 2022.
---
2022 Speaker: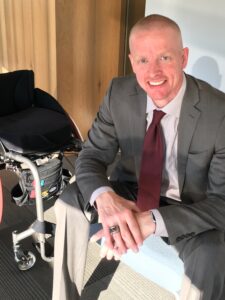 Will Waller sustained a gang-related gunshot wound on the hardened streets of Chicago when he was 18. The result was a spinal cord injury, a wheelchair and severe depression. Though the news that he would never walk again was devastating, his disability journey and eventually the sport of wheelchair basketball would reveal Will's potential.
This change would fuel a drive to pursue goals he once thought impossible. Since that fateful night of May 23, 1992, he has developed into a leader in the world of business, led Team USA to the podium as Captain at The Paralympic Games, and he's become a sought after voice for his motivating messages that transcend setting.
---
2022 Sponsors:
Presenting Sponsor