Casey's Challenge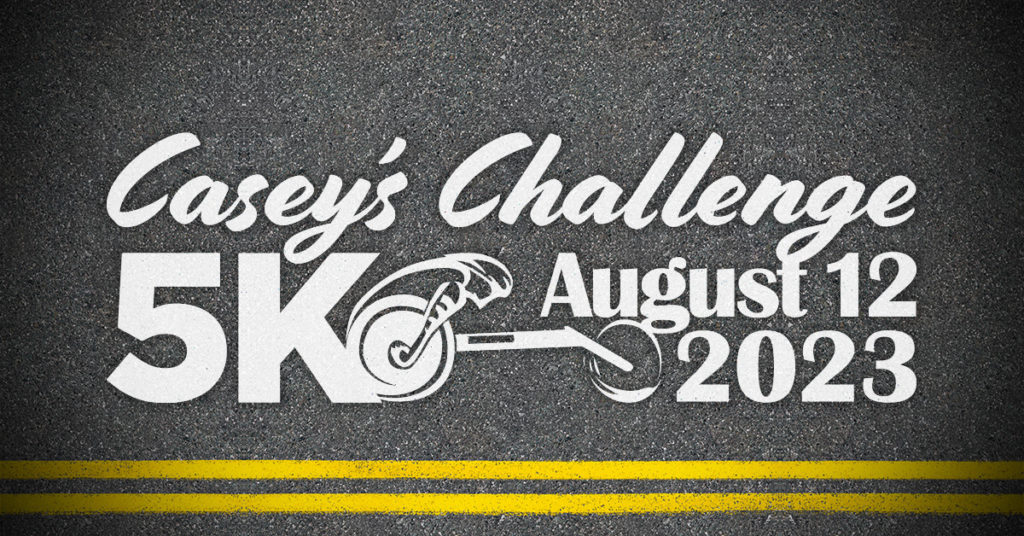 Walk, run, or roll with us at our annual Casey's Challenge 5K! Compete for the top time in your division to take home a trophy. Grab your friends, family, or coworkers and register as a team for the opportunity to take home our coveted Wheel of Excellence!
About Casey's Challenge
Casey's Challenge is an invitation to the community to rally behind athletes with disabilities and support their quest to participate in sports and recreation. Casey was the inspiration behind the creation of Adaptive Sports Ohio and was the first athlete in the state to participate on his track team using a racing wheelchair. Adaptive Sports Ohio is creating opportunities for individuals with disabilities to be included and active. If you believe in the power of sports and that everyone should have access, then sign up to support our mission to ensure that everyone has a chance to play!
2023 Event Information
Casey's Challenge will feature an in-person 5K run/walk, 5K wheelchair race, and a virtual event.
Saturday, August 12, 2023
7:30 a.m. Registration Opens/Packet Pick-Up
8:25 a.m. Wheelchair 5K Race
8:30 a.m. Ambulatory 5K Run/Walk
Western Reserve Insurance Group
2865 Benden Drive, Wooster, OH 44691
Event Day Parking information found here.
If you're interested in sponsoring our 2023 Casey's Challenge, please contact Lisa Followay.
Special thanks to our 2023 sponsors:
Gold:
Weaver Custom Homes
Chippewa Family Medicine/Community Therapy Center
Anonymous
Western Reserve Group
Romich Foundation
United Titanium
Bellstores
Silver:
Commercial Savings Bank
Wooster Motor Ways
Seaman Corporation
Wooster Ambulatory Surgery Center
Trillium Creek Dermatology
Applecreek Banking Company
Shanklin Heating and Cooling
Wooster Orthopaedics and Sports Medicine
Kimble Recycling and Disposal
Troyer Roofing and Construction
Click here for the 2022 results page.